Enter desired order quantities below, then click the "Add selected quantities to cart" button.
HANS Foam Padding and Cover Kit, Specify Color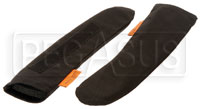 If the foam pads on your HANS Device have taken a set, or if the cloth covers have faded or frayed, they can easily be replaced. This is the same standard foam padding as supplied on new HANS devices. Includes shoulder pads and new Nomex covers which attach to your devcie using the standard hook-and-loop fasteners. One kit fits one HANS Device.