Enter desired order quantities below, then click the "Add selected quantities to cart" button.
Extron Pro 219 Axle Sprocket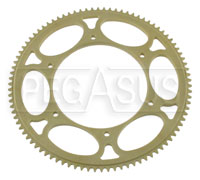 Extron Pro 219 Sprockets are 40% lighter than anything on the market today. Made of Kevlar, these sprockets are stronger, quieter, more durable, and feature less sliding resistance (keeping the sprocket cooler, thereby increasing chain life) than either aluminum or composite sprockets. Specifically made for karts using 219 chain and 6-bolt carriers.