Enter desired order quantities below, then click the "Add selected quantities to cart" button.
Karting Rod End, Male Threaded Shank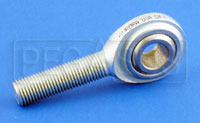 These male rod ends feature a carbon-steel body for moderate strength, appropriate for any racing kart. The race does not have a PTFE liner, so they will require periodic lubrication. Leaving out the liner results in a looser rod end for easier steering.
We also offer PTFE-Lined Carbon Steel Male Rod Ends (Part No. 3060), which do not require lubrication.