Enter desired order quantities below, then click the "Add selected quantities to cart" button.
AN12 Airframe Bolt, 3/4-16 Thread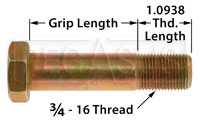 AN12 bolts have a 3/4-16 thread with 1.0938" thread length. Torque them to 192-208 lb-ft with AN365 or AN310 full-height nuts or 108-125 lb-ft with AN364 or MS21042 half-height nuts.

AN bolt nomenclature can be confusing. Please take a look at our page on Identifying AN Bolt Sizes.