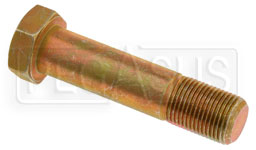 AN9, AN10, & AN12 Bolts
We are able to get a few bolts in diameters larger than AN8 (1/2-20). Most of these bolts are available by special-order.

AN9 bolts have a 9/16-18 thread with 0.9063 inch thread length.
AN10 bolts have a 5/8-18 thread with 0.955 thread length.
AN12 bolts have a 3/4-16 thread with 1.0938" thread length.

AN bolt nomenclature can be confusing. Please take a look at our page on Identifying AN Bolt Sizes.
* Quantity Pricing Available