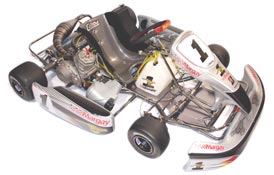 Karting Equipment
For over 35 years Pegasus has been satisfying the needs of auto racers and teams in the SCCA, USAC, ALMS, Porsche Cup, and many other sanctioning bodies. We are proud to offer this same level of service to the kart racing market.

Whether you are an experienced driver or you're preparing your youngster for a future in motorsports, we want to be with you every step of the way.
Recent Top Selling Products for this category

AeroCatch Flush Mount Hood Pins - Locking, Set of 2

Flush-mount AeroCatch makes hood pins obsolete! Just push the lever down to engage and lock in one motion. Push the latch button and pull the lever to release.

AN364 Thin Nylock Jam Nut (MS20364)

AN364 (MS20364 / MS21083) are Military Specification nylon locking nuts, rated at 125,000 psi and up to 250F. AN364 are half-height for bolts loaded in shear.

MS21059 Self-Locking Nut Plate, Floating

MS21059 Floating Nutplates let you install a captive self-locking nut behind a panel. The floating nut allows for some misalignment in assembly.