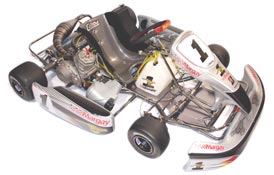 Karting Equipment

For over 25 years Pegasus has been satisfying the needs of auto racers and teams in the SCCA, USAC, ALMS, Porsche Cup, and many other sanctioning bodies. We are now proud to offer this same level of service to the ultra competitive karting market.

Products from respected names like Premier, RLV, EK, and Odenthal Mfg. are in stock and ready for immediate shipping. We carry the complete line of safety apparel from OMP, as well as helmets from Zamp, Simpson, Pyrotect, and Bell. We have Tillett racing seats, and MyChron gauges, and now as a distributor for Margay and Merlin racing chassis' we are well on our way to being your one-stop-shop for all of your karting needs.

Whether you are an experienced driver or you're preparing your youngster for a future in motorsports, we want to be with you every step of the way.
Recent Top Selling Products for this category

MS21042 Jetnut, All Metal Locknut

MS21042 Jetnuts are all-metal, self-locking nuts rated for temperatures to 450F. The reduced hex size makes them ideal for tight applications where wrench access is a problem.

Metric Floating Nut Plate

These lightweight, low-profile nutplates are very similar to MS21059 Floating Nut Plates, but in metric sizes. The float allows up to 0.75mm misalignment in assembly.

Simpson Bandit Helmet, Snell SA2010 Approved

The Simpson Bandit Helmet has been a classic since 1979, but this one if new and improved with vent openings and aerodynamic tweaks making it Snell SA2010 rated.