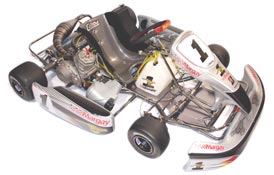 Karting Equipment
For over 35 years Pegasus has been satisfying the needs of auto racers and teams in the SCCA, USAC, ALMS, Porsche Cup, and many other sanctioning bodies. We are proud to offer this same level of service to the kart racing market.

Whether you are an experienced driver or you're preparing your youngster for a future in motorsports, we want to be with you every step of the way.
Recent Top Selling Products for this category

302 Piece Cleco Fastener Kit with Tray

Our Cleco Fastener Kit is popular with aircraft mechanics and race teams. Includes everything you need for clamping sheet metal during fabrication.

Arai GP-5W Helmet, Snell SAH2015, FIA8859-2015

The Arai GP-5W auto racing helmet has a tall 90mm high eyeport. The shell has a complex composite laminate developed for F1. Snell SA2015 and FIA 8859 approved.

Metric Self-Locking Nut Plate, Floating

These lightweight, low-profile nutplates are similar to MS21059 Floating Nut Plates, but in metric sizes. The float allows up to 0.75mm misalignment in assembly.