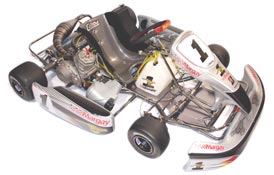 Karting Equipment
For over 35 years Pegasus has been satisfying the needs of auto racers and teams in the SCCA, USAC, ALMS, Porsche Cup, and many other sanctioning bodies. We are proud to offer this same level of service to the kart racing market.

Whether you are an experienced driver or you're preparing your youngster for a future in motorsports, we want to be with you every step of the way.
Recent Top Selling Products for this category

Dzus 1500 Series Sliding Latch and Bushing

The Dzus 1500 series sliding latch is ideal for attaching panels needing easy installation and removal. It latches and releases easily without tools but resists opening under vibration.

12 Point 220,000 psi Locknut

The super-strong H20 series, 12 point, 220,000 psi locknut offers a compact, lightweight, aerospace quality nut. All-metal self-locking nuts have a 12-point head.

82 Piece Self-Eject 1/4-Turn 5/16 Dia Fastener Trackside Kit

Our 1/4-Turn Fastener Trackside Kit is perfect for quick repairs at the track. You get 10 each of the most popular sizes of spring-loaded captive studs and receptacles in a handy organizer box.