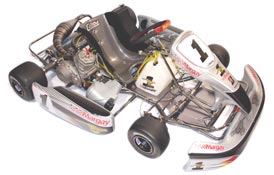 Karting Equipment
For over 35 years Pegasus has been satisfying the needs of auto racers and teams in the SCCA, USAC, ALMS, Porsche Cup, and many other sanctioning bodies. We are proud to offer this same level of service to the kart racing market.

Whether you are an experienced driver or you're preparing your youngster for a future in motorsports, we want to be with you every step of the way.
Recent Top Selling Products for this category

Heavy Duty Flexible Trim, Black - per foot

This heavy-duty flexible trim edge grommet material has a very high retention force thanks to the aluminum clips embedded within the plastic. Flexible and can be easily notched.

Metric Jetnut, All Metal Locknut

Our metric Jetnuts (kaynuts) are all-metal, self-locking nuts rated for temperatures as high as 450F. The reduced hex size makes them ideal for tight applications where wrench access is a problem.

Bell BR.1 Helmet, Snell SA2010 Approved

The Bell BR-1 racing helmet has a lightweight shell and an extra large eye-port for increased visibility. The ventilation system draws airflow through for maximum cooling. Snell SA2010 Approved.