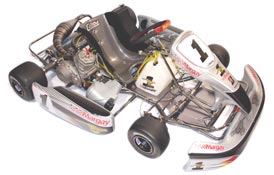 Karting Equipment
For over 35 years Pegasus has been satisfying the needs of auto racers and teams in the SCCA, USAC, ALMS, Porsche Cup, and many other sanctioning bodies. We are proud to offer this same level of service to the kart racing market.

Whether you are an experienced driver or you're preparing your youngster for a future in motorsports, we want to be with you every step of the way.
Recent Top Selling Products for this category

Heavy Duty Flexible Trim, Black - per foot

Our heavy-duty flexible trim covers sharp panel edges to protect wires and hoses from chafing and damage. Installs without adhesive or fasteners.

MS21059 Self-Locking Nut Plate, Floating

MS21059 Floating Nutplates let you install a captive self-locking nut behind a panel. The floating nut allows for some misalignment in assembly.

AN316 Thin Jam Nut (Non-Locking Check Nut)

Use Military Specification AN316 thin jam nuts to lock down adjusting screws or to prevent rotation of components threaded only partway into a female part (such as rod ends).