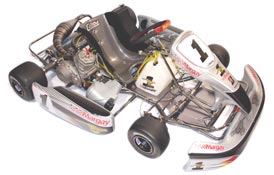 Karting Equipment
For over 35 years Pegasus has been satisfying the needs of auto racers and teams in the SCCA, USAC, ALMS, Porsche Cup, and many other sanctioning bodies. We are proud to offer this same level of service to the kart racing market.

Whether you are an experienced driver or you're preparing your youngster for a future in motorsports, we want to be with you every step of the way.
Recent Top Selling Products for this category

AN970 Large Area Flat Washer

AN970 Large Diameter Washers are steel flat washers similar to AN960 washers but with an oversized outside diameter for applications where a large bearing area is required.

Universal Head Aluminum Aircraft Rivet (AN470)

MS20470 (supersedes AN470) is the standard for protruding head solid rivets in the USA. Suitable for structural use on aircraft and monocoque race car chassis. MS20470AD are 2114-T4 aluminum alloy.

Jabroc Skid Plate Material

Now shipping full sheets in all thicknesses! Jabroc has predictable, uniform friction and wear. Ideal for skid plates to protect the bottom of your racecar chassis.