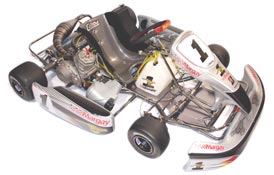 Karting Equipment
For over 35 years Pegasus has been satisfying the needs of auto racers and teams in the SCCA, USAC, ALMS, Porsche Cup, and many other sanctioning bodies. We are proud to offer this same level of service to the kart racing market.

Whether you are an experienced driver or you're preparing your youngster for a future in motorsports, we want to be with you every step of the way.
Recent Top Selling Products for this category

AN364 Thin Nylock Jam Nut (MS20364)

AN364 (equivalent to MS20364 and MS21083) are Military Specification Nylock or nylon locking nuts, rated at 125,000 psi and up to 250F. The AN364 is a half-height nut for bolts loaded in shear.

AMB/MyLaps TranX160 Rechargeable Karting Transponder

AMB / MyLaps TranX 160 Transponders are required by IKF, WKA, and many other kart racing organizations. The rechargeable TranX160 transponder works on all racing karts.

Clear Surface Guard Tape, 14 mil, 60 foot Roll

Our heavy 14 mil thick Surface Guard tape protects the leading edges of your bodywork from rock chips. Crystal-clear tape allows your paint to show through. 60 foot bulk roll in 6 or 8 inch width.