Enter desired order quantities below, then click the "Add selected quantities to cart" button.
Camloc 2600 Series Light Duty Stud, Protruding Head, Slotted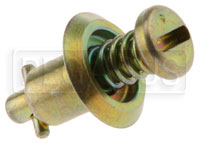 These light-duty Camloc studs are rated for 200 pounds working strength (ultimate tensile strength 300 pounds). The slot head allows use with standard flat-blade screwdrivers (no special tools needed). Sold individually.
The dash number is normally stamped on the head of the stud. This number corresponds to the overall stud length in inches using the following formulae:
Dash number = (Length - 0.73) / 0.03
Length = (Dash Number * 0.03) + 0.73

26 Series Camloc Stud Size Chart
Stud Dash Number
Stud Length
(Overall)
Total Grip*
Part Number
26S1-2
0.79"
.060"-.089"
CAM2600-02
26S1-3
0.82"
.090"-.119"
CAM2600-03
26S1-4
0.85"
.120"-.149"
CAM2600-04
26S1-5
0.88"
.150"-.179"
CAM2600-05
26S1-6
0.91"
.180"-.209"
CAM2600-06
26S1-7
0.94"
.210"-.239"
CAM2600-07
26S1-8
0.97"
.240"-.269"
CAM2600-08
26S1-9
1.00"
.270"-.299"
CAM2600-09
26S1-10
1.03"
.300"-.329"
CAM2600-10
26S1-11
1.06"
.330"-.359"
CAM2600-11

* Total Grip is the total thickness of the panels to be fastened. When using the 27 Series Side Mount Receptacle, measure from the front of the removeable panel to the top of the receptacle.