Enter desired order quantities below, then click the "Add selected quantities to cart" button.
Hawk Brake Pad: Buick, Cadillac, Chevy, Olds, Pontiac (D699)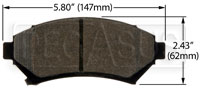 FMSI D699. Fits many GM midsize cars. Full application details are available in our Hawk Brake Pad Application Chart.
Several Buick models including:
1997-98 & 2001-04 Buick Regal 3.8 GS & LS
Several Cadillac models including:
1997-2000 Cadillac Eldorado
Several Chevrolet models including:
2000-04 Chevrolet Impala 3.4, 3.8, & LS 3.8
2001 & 2003 Chevrolet Impala Police
2004 Chevrolet Impala SS
1997-99 & 2001-02 Oldsmobile Aurora
1998-2002 Oldsmobile Intrigue
Several Pontiac models including:
1998-2003, 05, & 08 Pontiac Grand Prix

HPS Compound (F): HPS = High Performance Street. This compound will outperform OEM pads without sacrificing street manners. A good choice for Solo II; also recommended for amateur to intermediate drag racing. Effective from dead cold.