Enter desired order quantities below, then click the "Add selected quantities to cart" button.
Hawk Brake Pad: Audi, Volkswagen (D839)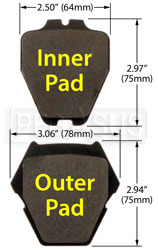 FMSI D839, D912. Does not accept wear sensors.

Note: This pad set has 8 small pads (4 per caliper, 2 on each side of the rotor), rather than 4 pads (2 per caliper). Fits:
2000-04 Audi A6 Quattro without wear sensors (except 2002 & 04 with single piston calipers)
2000-01 & 04 Audi A6 Quattro Avant without wear sensors (except 2004 with single piston calipers)
2000-03 Audi A8 Quattro (incl. A8 Quattro L) without wear sensors
2001-05 Audi Allroad Quattro without wear sensors (except 2003-05 with single piston calipers)
2000-02 Audi S4 without wear sensors
2001-02 Audi S4 Avant without wear sensors
2002-03 Audi S6 Avant without wear sensors
2001-03 Audi S8 without wear sensors
2001 VW Passat 4Motion without wear sensors
2002-05 VW Passat without wear sensors*
*Optional equipment caliper. Please compare pad profile to determine if this is the correct shape. Alternate for this model is HB354.

Blue Compound (E): Medium/High torque compound with medium initial bite. The wide temperature range and good brake modulation have made it the #1 pad material for SCCA. Recommended for Production, IT, F2000, Formula Ford, S2000, CSR, and DSR. 250-1000° F.
HPS Compound (F): HPS = High Performance Street. This compound will outperform OEM pads without sacrificing street manners. A good choice for Solo II; also recommended for amateur to intermediate drag racing. Effective from dead cold.