Enter desired order quantities below, then click the "Add selected quantities to cart" button.
Hawk Brake Pad: 03-05, 08-09 Subaru WRX, Saab 9-2X (D929)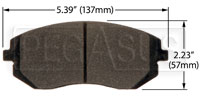 FMSI D929. Fits:
2005-06 Saab 9-2X 2.5i, Aero 2.0, Aero 2.5, & Linear 2.5
Several Subaru models including:
2003-05 Subaru Impreza WRX 2.0 & 08-09 WRX 2.5
2002-05 Subaru Impreza RS
2002-04 Subaru Impreza TS
2007-09 Subaru Impreza 2.5i
Please see our Hawk Brake Pad Application Chart for a full list of Subaru models.

HT-10 Compound (S): High torque with a smooth initial bite. Works well as a rear pad with HT 14 in front. Recommended for sedans, sports racers, and formula cars with downforce, including GT, Formula Atlantic, F2000, F3000, S2000, CSR, and DSR. 300-1600° F.
HPS Compound (F): HPS = High Performance Street. This compound will outperform OEM pads without sacrificing street manners. A good choice for Solo II; also recommended for amateur to intermediate drag racing. Effective from dead cold.