Enter desired order quantities below, then click the "Add selected quantities to cart" button.
Hawk Brake Pad: Mazda 3, 5, Solstice Rear (D1095)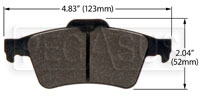 FMSI D1095. Fits the rear of the following vehicles:
2004-09 Mazda 3 S with top spring clip (rear)*
2004-05 Mazda 3 SP23 with top spring clip (rear)*
2007-09 Mazda Mazdaspeed 3 with top spring clip (rear)*
2008-09 Mazda 5 including Sport, Touring, & Grand Touring (rear)
*Some models in these years used a rear pad with a back spring plate. Please check your pads to be sure this is the correct pad for your application.
2006-10 Pontiac Solstice including 07 Solstice GXP (rear)
2003 Saab 9-3 SE 2.0 w/288mm front rotors (rear)
2007-10 Saturn Sky / Sky Red Line (rear)
2005 Volvo S40 I (rear)
2006-09 Volvo S40 T5 (rear)
2008-09 Volvo C30 T5 / C70 / S40 2.4 I (rear)
2005-09 Volvo V50 incl. I, 2.4 I, & T5 (rear)

HP Plus Compound (N): Designed as an autocross (Solo II) and track day (Solo I) compound. Very wide temperature range makes it suitable for all forms of autocross, yet still streetable. Expect an increase in dust, noise, and rotor wear. 100-800° F.