Enter desired order quantities below, then click the "Add selected quantities to cart" button.
Hawk Brake Pad: Wilwood DynaPro 6 (Type 6712)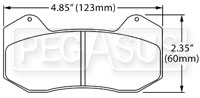 Fits Wilwood DynaPro 6 (Type 6712) racing calipers.
DTC-70 (U) Compound has been designed for extremely high torque with very high initial bite. Designed to be the most controllable racing brake pad available. Intended for heavier sedans and formula cars with downforce. Recommended for Trans-Am, GT1, CART, Formula Atlantic, F3000, and Sports Prototypes. 400-1600° F temperature range.