Enter desired order quantities below, then click the "Add selected quantities to cart" button.
Hawk Brake Pad: Wilwood DLS Caliper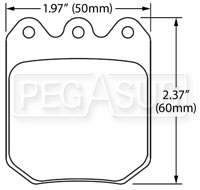 Fits Outlaw 1000 / 1500, Wilwood Dynalite Single, Sierra / JFZ MGN Single, and Brembo 623 calipers. Typical applications include Formula 500, Midgets, and Karts.
This is an update to the original HB104 Brake Pad for Wilwood Dynalite / Outlaw 1000 (Part No. HB104), with three cotter pin holes instead of one. If your caliper uses just one retaining pin in the middle of the pad, you can use either shape.

Black Compound (M): Medium torque compound for grass roots racing. This material was designed to be a good, all purpose low cost racing pad. Recommended for Dirt Circle Track, Dune Buggy and light duty Road Racing applications.
DTC-30 Compound (W): Wide temperature range with moderate friction. Smooth bite with easy modulation and excellent release. Recommended in Dirt Circle Track, Drag Racing, and Gravel Rally stages.