Enter desired order quantities below, then click the "Add selected quantities to cart" button.
Red Line Non-Slip CVT Automatic Transmission Fluid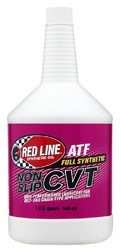 Red Line Synthetic Non-Slip CVT is designed for use in Continuously Variable Transmissions*. Anti-wear additives protect against metal-to-metal wear in torque converter clutches and metal belt transmissions. Superior stability and shear characteristics extend drain intervals up to 30,000 miles.

Red Line Synthetic ATF
Viscosity
@ 100° C
Viscosity
@ 40° C
Viscosity
Index
ASTM D2983 Viscosity
@ -40° C
Pour
Point
Flash
Point
7.2 cSt
36.7 cSt
165
120 P
-51° C (-60° F)
224° C (435° F)


* Non-Slip CVT is for use in metal belt-type CVTs, such as Daihatsu, Nissan, and Subaru. NOT for use in Audi clutch-type, torodial, or dry CVTs. Also not for use in Hondas with wet-start clutches.