Enter desired order quantities below, then click the "Add selected quantities to cart" button.
Helmet Shield for SA95 / SA00 OMP Vision & Formula Helmets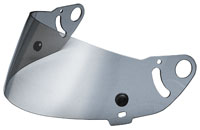 These face shields fit SA95 and SA2000 OMP Vision and Formula helmets. Made of thick 3mm antiscratch polycarbonate material.

The helmets which accept these shields were made by AGV for OMP until 2004 (also called the "Integrale" series). These helmets can be identified by three horizontal vent slots on either side of the chin bar.
These shields do not fit the 2004 and later Formula 4 or Formula Carbon helmets. These helmets can be identified by a black plastic "wing" connecting the pivot screw to the shield slider screw, and by a V-shaped vent intake just below the visor.