Enter desired order quantities below, then click the "Add selected quantities to cart" button.
Simpson Latch F/X Bolt-In Lap Belt, 36"-62", Pull-Down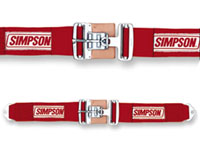 This 3" wide lap belt features the clever Simpson Latch F/X buckle. This design incorporates the adjusters into the buckle, which reduces size and weight by 30%. The compact forged steel lever design prevents inadvertent buckle release. Bolt-in mounting plates are sewn in at each end. The overall length is adjustable from 36" to 62" to fit a wide range of installation.
SFI 16.1 approved. Available in black, blue or red.

Belts are sold per seat. "Each" belt will cover one seat.