Enter desired order quantities below, then click the "Add selected quantities to cart" button.
ShockWrench Nut Only, Thread, 2.062 x 16 tpi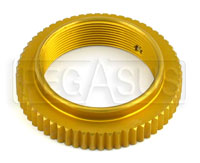 These platform nuts have a thread size of 2.062 x 16 tpi (V-form thread) to fit the widely used Penske 7500 and 8100 series shocks. Available for 2.25" and 2.50" i.d. springs.