Enter desired order quantities below, then click the "Add selected quantities to cart" button.
Hawk Brake Pad, Lola F3000, Brembo, Wilwood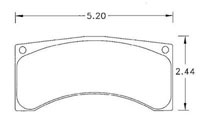 This item qualifies for FREE Shipping in the continental United States!
Fits Brembo x2.046.01, Coleman Series 3, and Wilwood GT 4000 calipers. Primarily used on Lola F3000.

Ferro-Carbon is a unique, high-tech family of friction materials developed and manufactured by Hawk Brake for the racing community. Hawk Pads do not require an extensive "bedding-in" procedure. Keep in mind however, that all disc brake pads require a short period of bedding-in before being used to the maximum of their potential.

HT14 Compound (V): Extremely high torque with aggressive initial bite - designed for cars with very high deceleration rates and downforce. Excellent release and modulation characteristics. Recommended in CART, Toyota Atlantic, F2000, F3000, Trans-Am. Replaces HT12 compound.
HT10 Compound (S): Very high torque with a smooth initial bite. Good rotor and pad life. Excellent modulation with good release characteristics. Recommended in NASCAR, Trans-Am, and all forms of road racing.