Enter desired order quantities below, then click the "Add selected quantities to cart" button.
Hawk Brake Pad: Audi, VW (D1107)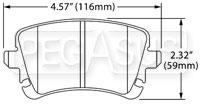 FMSI D1107. Fits the following vehicles:
2006-08 Audi A3 & 2006-10 Audi A3 Quattro
2009 Audi TT
2009 VW CC (not VR6)
2008-09 VW Eos Komfort, Lux, Turbo, & VR6
2006 VW Golf GLS TDI*
2006-07 VW Golf GTI 2.0
2006 VW Golf GTI 1.8T without wear sensors
2007-09 VW GTI 2.0
2006-07 VW Jetta 2.0T
2005-09 VW Jetta GLI 2.0
2008-09 VW Jetta S, SE, & SEL 2.5
2006-08 VW Jetta TDI
2008-09 VW Passat Komfort, Lux, Turbo & VR6
2006-09 VW Rabbit S 2.5
*Optional calipers on this model. Please compare pad profile to ensure this is the correct shape for your application. See also HB365 for this model.
HPS Compound (F): HPS = High Performance Street. This compound will outperform OEM pads without sacrificing street manners. A good choice for Solo II; also recommended for amateur to intermediate drag racing. Effective from dead cold.