Enter desired order quantities below, then click the "Add selected quantities to cart" button.
Hawk Brake Pad: Porsche Cayenne, VW Touareg Rear (D978)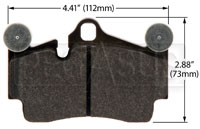 FMSI D978. Fits the rear of the following vehicles:
2003-06 & 08 Porsche Cayenne S 4.5 / 4.8 (rear)
2008 Porsche Cayenne Turbo 4.8 (rear)
2008-09 Porsche Cayenne 3.6 (rear)
2008-09 Porsche Cayenne GTS 4.8 (rear)
2004-06 VW Touareg 3.2 except 2004-05 w/18" wheels & 350mm front rotors (rear)
2006-07 VW Touareg 3.6 (rear)
2004-07 VW Touareg 4.2 (rear)
2004-08 VW Touareg TDI (rear)

Performance Ceramic (Z): Formulated to be an ideal replacement for factory ceramic pads on luxury cars, with an emphasis on extremely low noise, low dust, and stable friction to prevent interference with ABS systems.