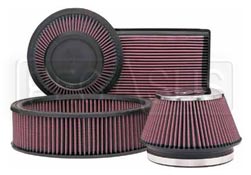 K&N Air Filters & Accessories
We carry K&N air filters for many popular road racing applications.

In addition to the styles listed here, we can also special-order any K&N filter made.
Related Product Categories
Recent Top Selling Products for this category

K&N Clamp On Filter, Round Taper, 2.25 FL, 3.5B x 4H, Chrome

This K&N clamp-on air filter has a 2 1/4" ID clamp-on flange. The filter tapers from 3 1/2" OD at the Base to 2" OD at the Top. The filter is 4" High and features a chrome end cap.

K&N Chrome Top Cover, 4.5 x 7 Oval, Center Bolt

This chrome top cover fits all K&N filter assemblies with a 4.5" x 7" oval element and a single center stud or bolt, including our filters for DCOE carburetors.

K&N Air Filter, Weber 32/36 DGV, DGAV, DGEV, - 4.5 x 7 Oval

These small oval K&N Air Filters mount perpendicular to the valve cover on the Ford 1600 and 2.0L engines. Fits Weber 32/36 DGV, DGV5A, DGAV, and DGEV carburetors.