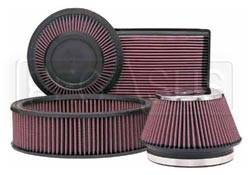 K&N Air Filters & Accessories
We carry K&N air filters for many popular road racing applications.

In addition to the styles listed here, we can also special-order any K&N filter made.
Related Product Categories
Recent Top Selling Products for this category

K&N Air Filter, Weber 32/36 DGV, DGAV, DGEV, - 4.5 x 7 Oval

These small oval K&N Air Filters mount perpendicular to the valve cover on the Ford 1600 and 2.0L engines. Fits Weber 32/36 DGV, DGV5A, DGAV, and DGEV carburetors.

K&N Filter Element, Large Oval (5.5 W x 9 L x 3.25 H)

This replacement element fits K&N filter assemblies with 5.5" wide x 9" long x 3.25" oval filters.

K&N Rubber Base Crankcase Vent Filter, 1.5 H x 2.0 D, 1/2 ID

This K&N Vent Filter is designed to clamp directly onto 1/2 inch OD tubing. Ideal for engines, transmissions, and oil or gas tanks on racing vehicles.