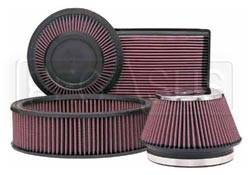 K&N Air Filters & Accessories
We carry K&N air filters for many popular road racing applications.

In addition to the styles listed here, we can also special-order any K&N filter made.
Related Product Categories
Recent Top Selling Products for this category

K&N Cone Air Filter: 83-85 Tiga Sports 2000 (6.12 x 16)

This K&N cone air filter has a 6.12" inlet diameter, 3" diameter small end, and is 16" in length.

K&N Rubber Base Crankcase Vent Filter, 1.5 H x 2.0 D, 5/8 ID

This K&N Rubber Base Crankcase Vent filler clamps directly to metal or plastic tubing making it ideal for engines, transmissions, oil, and gas tanks on racing vehicles.

K&N Chrome Top Cover, 4.5 x 7 Oval, Center Bolt

This chrome top cover fits all K&N filter assemblies with a 4.5" x 7" oval element and a single center stud or bolt, including our filters for DCOE carburetors.