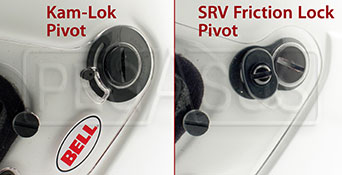 Helmet Face Shields, Visors, & Tear-Off Shields
We carry face shields, visors, and tear-offs for Bell, OMP, Pyrotect, and Simpson auto racing helmets.

Bell introduced the SRV friction-lock system as a rolling change in 2005-06 on the SA2005 Dominator, Vortex, M3 / M3 Xtra, GTX, M4 Pro, and BR-1 helmets. Some of the early SA05 helmets have the original Bell Kam-Lok Shield detent system, but later SA05 versions of these models have the Bell SRV Friction Lock Shield system. The SRV shield has a smooth curved slot in front of the pivot and takes a different shield. We have a larger version of the above photo to help you identify which shield pivot mechanism is used on your Bell Helmet.
Related Product Categories