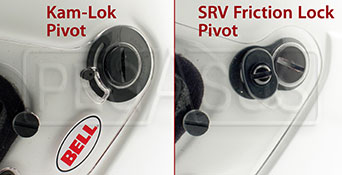 Helmet Face Shields, Visors, & Tear-Off Shields
We carry face shields, visors, and tear-offs for Bell, OMP, Pyrotect, and Simpson auto racing helmets.

Bell introduced the SRV friction-lock system as a rolling change in 2005-06 on the SA2005 Dominator, Vortex, M3 / M3 Xtra, GTX, M4 Pro, and BR-1 helmets. Some of the early SA05 helmets have the original Bell Kam-Lok Shield detent system, but later SA05 versions of these models have the Bell SRV Friction Lock Shield system. The SRV shield has a smooth curved slot in front of the pivot and takes a different shield. We have a larger version of the above photo to help you identify which shield pivot mechanism is used on your Bell Helmet.
Related Product Categories
Recent Top Selling Products for this category

Bell 287 SRV Helmet Shield f/ GP.2, GTX.2, Star GP, Infusion

The 287SRV shield was introduced on SA2010 Bell USA GP.2, GTX.2, Star GP, and Star Infusion auto racing helmets.

Bell 276 SRV Helmet Shield for Dominator, K-1, Vortex GT

The 276 SRV Helmet Shield fits SA2010 Bell Vortex GT and K.1 Sport helmets. Also fits SA2005 Bell Dominator, K-1 Sport, and GTX.

Tear-Offs, Bell/Pyrotect 12.4" Post Spacing, 10 pack

Our heavy-duty 5 mil tear-offs fit all Pyrotect full-face and SA1990 through SA2005 Bell full-face auto racing helmets. They also fit certain SA2010 Bell helmets.