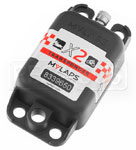 MyLaps Transponders for Cars & Road Racing Motorcycles (Red)
The MyLaps rechargeable TR2 and direct power X2 Transponders (red stripe) fulfill the requirements of SCCA, PCA, VSCDA, MCSCC, and many other auto racing organizations. Both are compatible with all existing AMB timing systems as well as the latest X2 multi-loop systems with driver feedback.
The red-stripe TR2 is the newest and most innovative transponder. Manage your subscription from your smartphone via Bluetooth and create a personal racer account in the free Speedhive app.
The transponders listed here are for use in auto racing only. They are not for use on karts, motocross bikes, or snowmobiles. They will work on road racing motorcycles (e.g., Superbikes).

Recent Top Seller for this product group

X2 Transponder Holder with Clip

This is the same quick-release mounting bracket supplied with MyLaps X2 transponders. Use a second mount to use your X2 in another car.