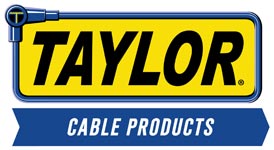 Spiro-Pro Spark Plug Wires by Taylor
Our 8mm blue silicone wire sets have spiral-wound solid cores to provide maximum firepower without radio interference. The universal sets leave one end of each wire bare so you can cut and terminate the wire to fit your application. The Formula Ford 1600 and FF2000 / S2000 sets are ready to use, but they do not include a coil wire because coil location varies widely.
Recent Top Seller for this product group

Woven Spark Plug Boot Protector / each

Our woven spark plug boot protectors insulate your plug wires from damaging exhaust heat. Two layers of insulation resist heat up to 1200F.