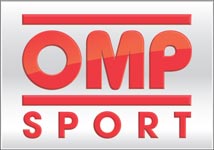 OMP Sport Safety Gear
You asked, and OMP answered! We told OMP that our customers wanted high-quality safety gear at a price that wouldn't break the bank. They came through with the OMP Sport line of driver's safety gear. You wouldn't expect to find this level of quality at these prices. In fact, many manufacturers can't match OMP quality at much higher prices!
All OMP Sport safety gear (except the Sport helmet) bears SFI tags. Most of the suits, underwear, and gloves are also available with FIA tags. The Sport helmet carries Snell SA2010 approval.

OMP Sport is the official safety gear of the ChumpCar World Series!
Recent Top Seller for this product group

OMP Sport Line Nomex Underwear Top, SFI 3.3

OMP Sport Line Nomex Underwear Tops are flame resistant and are required by many race sanctioning bodies. This long sleeve top is made of a single layer of soft knit Nomex. SFI 3.3 Approved.
Image

Part No.

Description

Price

Status

2633-Size-Color

$439.00
to
$505.00
Some
In Stock

2637-001-Size-Color

$399.00
to
$459.00
In Stock

2635-Size-Color

$439.00
to
$505.00
Some
In Stock

2634-Size-Color

$139.00
to
$159.89
In Stock

2636-001-Size

$289.00
to
$332.39

Not In Stock

2636-002-Size

$239.00
to
$274.89

Not In Stock

2651-Size-Color

$149.00
Some
In Stock

2650-Size-Color

$99.00
Some
In Stock

2642-Size-Color

$79.00
In Stock

2641-Size-Color

$79.00
Some
In Stock

2153-012-Size

$72.00
Some
In Stock

2153-013-Size

$69.00
Some
In Stock

2153-014-Size

$25.00
In Stock

2153-016

$35.00
In Stock

2153-010-Size

$64.00
In Stock

2153-011-Size

$68.00
In Stock

2153-015

$29.00

Not In Stock

2778-S10-Size-Color

$259.00
In Stock

2338-202-Tint

$49.00
In Stock

OMP-OR5001-Size-Color

$19.00
In Stock

OMP-OR5003-Size

$16.00
In Stock

OMP-ORA2001

$29.00
In Stock