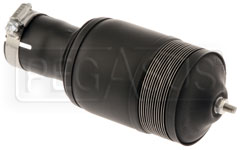 Parts for SuperTrapp 3S Series Spark Arrestor Mufflers
SuperTrapp mufflers are the only USDA Forest Service Approved spark arrestors that do not rely on restrictive swirl baffles or fragile screens. Sparks are funnelled into a collection chamber in the end cap, while exhaust gases exit between special diffuser discs. Even if the collection chamber filled to capacity, the small 0.023" gap between the discs still provides a back-up layer of spark protection.
The 3" diameter SuperTrapp 3S Series muffler is recommended for engines up to 10 HP, but it can also be used on engines up to 50 HP where compact size is a greater concern than noise reduction.

SuperTrapp 3S vs. 5S Comparison and Technical Data

Note: The SuperTrapp 3S Series has been discontinued. The parts listed here are the last available. When they sell out, we will not be able to get any more.
| Image | Part No. | Description | Price | Status |
| --- | --- | --- | --- | --- |
| | ST-3S-6503 | | $15.99 | In Stock |
| | ST-3S-6512 | | $38.49 | In Stock |
| | ST-3S-5500 | | $79.99 | In Stock |
| | ST-3S-7575 | | $25.99 | In Stock |