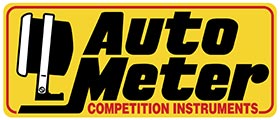 Auto Meter Wideband Air/Fuel Ratio Monitors
Is "Lean-OK-Rich" enough information for your turbocharged application? When the accuracy of your air-fuel ratio is critical, don't rely on an old-fashioned single-wire oxygen sensor. Engine tuners have found that only modern wideband sensors are sensitive enough for fine-tuning fuel injection or forced induction.
Auto Meter wideband air/fuel ratio gauges combine the competition-proven simplicity and style of an Auto Meter gauge with the OEM-trusted Bosch LSU 4.2 wideband oxygen sensor.