Note: The COVID-19 pandemic has impacted international deliveries. Some countries have restricted imports, making deliveries unpredictable.
If the carrier is unable to deliver your package, and your country does not have an arrangement to hold packages for delayed delivery, the carrier may ask us to pay costly additional shipping charges to return the package to us, or they may require us to abandon the package if the return shipping charges exceed the value of the merchandise. The costs associated with either of these outcomes becomes the buyer's responsibility.
If your country is restricting imports, you may want to delay placing your export order until the restrictions are lifted.
Canadian Customers: So far, we have not heard about major delays when shipping to Canada.
Discounted Shipping on Export Orders
Pegasus has negotiated competitive rates with several international freight companies.
As an added bonus, Pegasus pays all insurance costs!
Our new method for calculating shipping charges now shows estimated shipping rates for all countries serviced by FedEx and UPS. You don't even need to log-in to see estimated shipping costs.
Note 1: Charged weight is based upon either the actual weight or the dimensional weight - whichever is greater. Dimensional weight for international shipments is based upon a minimum density of 1 pound per 139 cubic inches of volume. For example, a box which measures 10 inch by 9 inch by 6 inch would be charged as a 4 pound package even if it only weighs 1 pound (10 x 9 x 6 = 540 cubic inch; 540/139 = 3.9 pounds dimensional weight - any fraction is rounded to the next higher pound.)
Note 2: Outlying areas may be subject to a $42 (or $0.42 per pound) Extended Area Surcharge.
Note 3: You may be able to speed customs clearance and save money on disbursement fees* by setting up an account with your local FedEx or UPS office before a package arrives. Some of our customers have reported improved service and lower costs after making such arrangements.
Note 4: If you have previously designated a customs brokerage house other than FedEx or UPS to act on your behalf, FedEx or UPS may be forced by local laws to turn the shipment over to them for clearance. This would subject the shipment to additional fees charged by your designated brokerage. To avoid this, you may want to revoke any prior declaration and allow FedEx or UPS to act as your customs broker. Standard customs clearance cost are included in the cost for FedEx and UPS International Saver and International Express service. (Any applicable tax or duty is not included.) Please contact your local FedEx or UPS office if you have any questions on their customs brokerage service.
Note 5: Small, lightweight and low-value packages can sometimes be shipped more economically via Air Mail using the Postal Service. We will use our discretion to determine if we can significantly reduce your shipping cost by sending a package through the mail. One drawback to using the Postal Service is the lack of effective package tracking. If you have a strong preference about whether or not we should consider using the Postal Service, please add a note in the Comments section near the bottom of the Review Cart page.
Note 6: International shipping terms are: "Ex Works - New Berlin WI USA".
* If FedEx or UPS advances payment of a tax or import duty on your behalf, they may charge you a disbursement fee. You may be able to eliminate this added fee if you make prior arrangements with your local FedEx or UPS office.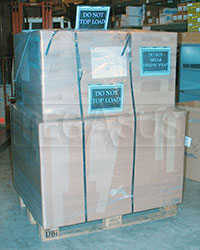 Whether your order weighs one pound or one ton, our experienced warehouse personnel will carefully pack your shipment for safe transit.