Beta Tools Sparkproof Cu-Be Tools
Beta Tools sparkproof tools are constructed of a special copper-beryllium (Cu-Be) alloy for safe use in potenially explosive environments. Beta Tools Cu-Be tools are also perfectly antimagnetic and corrosion-resistant. These tools are certified non-sparking under European Directive 99/92/EC.
Note: Copper-beryllium tools are not safe for use in contact with acetylene. Acetylene can react with the copper to form copper acetylide, a powerful and very dangerous explosive.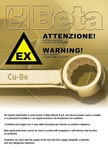 Related Technical Documents