Robic Timer Batteries
Where Can I Find a Replacement Battery for my Robic Timer?
Robic Timers use lithium batteries for long life. The US DOT considers these little batteries to be a hazardous material and has placed restrictions on how they may be shipped (including an extra compliance fee, which is higher than the price of the battery). Fortunately, these batteries are very common items that can be purchased locally at national chain stores such as Walgreen's, CVS, Wal-Mart, Radio Shack, and many grocery stores. Some larger variety stores with watch departments may also have them for sale.
If you take the battery out of your timer, you will see the battery number stamped on it. You can use any brand of battery you like, as long as it has that same number on it.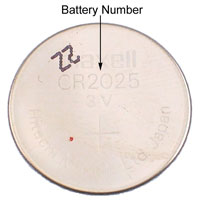 The CR2032 battery is used in the following Robic models:
SC-554 Speed Timer / Twin Chrono 20, Pegasus Nos. 5031, 5032, 5034 (no longer available)
SC-577 Wristwatch, Pegasus No. 5058 (no longer available)
SC-584 Wristwatch, Pegasus No. 5042 (no longer available)
SC-800 Sports Chronometer, Pegasus Nos. 5033, 5043, 5046 (no longer available)
SC-808 200 Lap Memory Speed Chrono, Pegasus Nos. 5055, 5065, 5066 (no longer available)
SC-848 300 Dual Memory Speed Chrono, Pegasus Part No. 5078-101
SC-888 Triple Timer Speed-Chrono, Pegasus Nos. 5037, 5038, 5039 (no longer available)
HW30 Heat / Humidity Stopwatch, Pegasus No. 5057
The CR2025 battery is used in the following Robic models:
SC-505 Multi-Mode Chronograph, Pegasus No. 5035
SC-544 Speed Timer / Twin Chrono 7, Pegasus No. 5036, 5040, 5048 (no longer available)
SC-514S Speed Timer (no longer available)