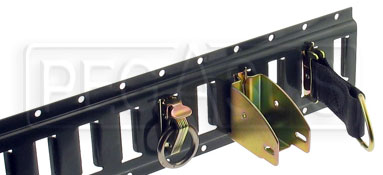 E-Track Modular Tie-Down Rails & Anchor Fittings
Customize your trailer to fit your exact requirements with E-Track, the most versatile, most flexible tie-down anchoring system around.

The basis of the E-Track system is the heavy-gauge steel track with evenly-spaced pockets. A variety of anchor fittings clip into the pockets without the need for tools or extra hardware. Fittings can be moved, removed, and added at any time, making E-Track an excellent choice for a variety of hauling uses!
Dual-purpose trailers: Haul your racing machine on weekends and your work machines during the week! Snap-in fittings and anchors can be easily moved -- without tools -- as your needs change.
Shared trailers: Haul a variey of cars and equipment without being "tied down" to one layout.
Your own custom trailer: The wide variety of fittings allows you to build your trailer just as you want it and change it at any time!
Tow vehicles: Use E-Track in your truck or van to keep all kinds of cargo secure.
E-Track can even increase the resale value of your trailer by making it instantly useable by the next owner!


Recent Top Seller for this product group

E-Track 2x4 Beam Socket Fitting

These E-Track 2x4 beam socket fittings hold one end of a 2x4 stud to your E-Track which lets you build shelves, tire racks, or any other light to medium-duty secondary deck on your trailer.