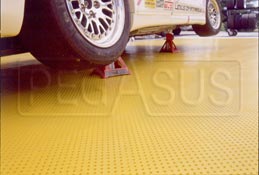 Flooring & Floor Protection for Trailer, Paddock, & Garage
Give your shop, trailer, or paddock space a professional look. Clean up, cover up, and prevent oil stains for a more pleasant work space.
Recent Top Seller for this product group

Abzorb Oil Mat 3ft x 3ft

The 3' x 3' Abzorb Oil Mat collects all oils and fluids for proper disposal. Polyurethane backing prevents drips from penetrating through. One mat holds 1-3 quarts.
| Image | Part No. | Description | Price | Status |
| --- | --- | --- | --- | --- |
| | 9000-Size | | $2.99 | In Stock |
| | 9001-Size | | $1.29 | In Stock |
| | 9003-Size | | $1.29 | In Stock |
| | 9002-Size | | $0.89 | In Stock |
| | LA11175 | | $26.99 | In Stock |
| | LA11180 | | $46.99 | Not In Stock |
| | 3437-020 | | $19.99 | In Stock |
| | 3437-021 | | $21.99 | In Stock |
| | 3437-022 | | $24.99 | In Stock |
| | 3437-023 | | $29.99 | In Stock |
| | 3950 | | $16.79 | In Stock |
| | 3769-Size | | $12.99 | In Stock |