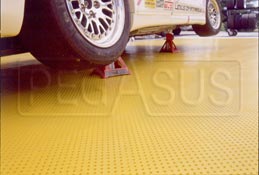 Flooring & Floor Protection for Trailer, Paddock, & Garage
Give your shop, trailer, or paddock space a professional look. Clean up, cover up, and prevent oil stains for a more pleasant work space.
Recent Top Seller for this product group

Longacre Track Mat (Ground Pad)

The Longacre Track Mat protects and pads you from wet or uneven grass, hot or cold pavement, and more. Easy to clean and folds for easy storage.
| Image | Part No. | Description | Price | Status |
| --- | --- | --- | --- | --- |
| | 9000-Size | | $2.99 | In Stock |
| | 9001-Size | | $1.29 | In Stock |
| | 9003-Size | | $1.29 | In Stock |
| | 9002-Size | | $0.89 | In Stock |
| | LA11175 | | $26.99 | In Stock |
| | LA11180 | | $46.99 | Not In Stock |
| | 3437-020 | | $19.99 | In Stock |
| | 3437-021 | | $21.99 | In Stock |
| | 3437-022 | | $24.99 | In Stock |
| | 3437-023 | | $29.99 | In Stock |
| | 3950 | | $16.79 | In Stock |
| | 3769-Size | | $12.99 | In Stock |