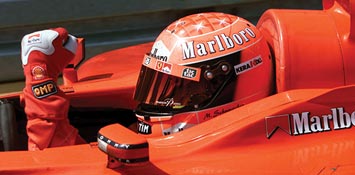 OMP Nomex Driving Gloves
OMP safety gear has been the choice of F1 world champions for many years. Michael Schumacher is wearing the "Grand Prix" (replaced by the One Evo) in the photo above.

To find glove size: Measure around the largest part of the hand over the knuckles while making a fist, excluding the thumb.

Glove Sizing Chart for All OMP, Simpson, & Mechanix Gloves
Glove Size
Small
Medium
Large
X-Large
Measurement
7 1/2 - 8 1/2"
8 1/2 - 9 1/2"
9 1/2 - 10 1/2"
10 1/2 - 11 1/2"
Recent Top Seller for this product group

OMP Sport Line Gloves, SFI 3.3/5 and FIA 8856-2000

The OMP Sport racing glove provides SFI and FIA approved fire protection at a great price. The stretch-knit Nomex construction offers excellent fit without excess decoration.
Image

Part No.

Description

Price

Status

2627-001-Size-Color

$195.00
Some
In Stock

2627-002-Size-Color

$175.00
In Stock

OMP755E-Size-Color

$175.00
Some
In Stock

2627-003-Size-Color

$159.00
Some
In Stock

OMP-IB741-Size-Color

$134.99
In Stock

2627-004-Size-Color

$119.00
In Stock

OMP-757E-Size-Color

$119.00
Some
In Stock

2616-Size-Color

$81.99
In Stock

2642-Size-Color

$79.00
In Stock

2641-Size-Color

$79.00
In Stock

OMP762-Size-Color

$88.00
Some
In Stock

2099-002

$11.99
In Stock