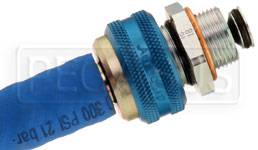 Quick-Drain Oil Pan Couplers
Put a dry disconnect on your drain plug for cleaner oil changes! No more spilling all over frame rails or exhaust headers. These Quick-Drain Pan Couplers replace your oil drain plug with a self-sealing quick-connect coupler.
Oil stays in the sump until you connect the Female Coupler. When you disconnect the female coupler, the male pan coupler automatically closes and stops the flow of oil. The female coupler accepts a 5/8" ID hose so you can direct the oil anywhere you want.

Each male Pan Coupler includes a drain plug gasket and a protective cap to keep dirt out of the valve mechanism. The Female Coupler is sold separately. One female coupler size fits all pan couplers, so one female coupler can be used on multiple vehicles.
Recent Top Seller for this product group

Quick Drain Oil Pan Coupler, 22mm x 1.5 Male

The 22mm by 1.5 Male Quick Drain Pan Coupler replaces your oil drain plug with a self-sealing quick-disconnect coupler. It flows about 0.68GPM and accepts 5/8" hose to route oil anywhere you want.
| Image | Part No. | Description | Price | Status |
| --- | --- | --- | --- | --- |
| | 3228-350 | | $35.99* | In Stock |
| | 3228-320 | | $36.99* | In Stock |
| | 3228-321 | | $36.99* | In Stock |
| | 3228-322 | | $36.99* | In Stock |
| | 3228-323 | | $36.99* | In Stock |
| | 3228-324 | | $36.99* | In Stock |
| | 3228-325 | | $36.99* | In Stock |
| | 3228-326 | | $36.99* | In Stock |
| | 3228-327 | | $36.99* | In Stock |
| | 3228-328 | | $36.99* | In Stock |
| | 3228-329 | | $36.99* | In Stock |
| | 3228-330 | | $36.99* | In Stock |
| | 3228-331 | | $36.99* | In Stock |
| | 3228-370 | | $2.29* | In Stock |
| | 3228-371 | | $2.29* | In Stock |
| | 3228-372 | | $2.29* | In Stock |
| | 3228-373 | | $2.29* | In Stock |
| | 3228-374 | | $2.29* | In Stock |
| | 3228-375 | | $2.29* | In Stock |
| | 3228-376 | | $2.29* | In Stock |
| | 3228-361 | | $6.99* | In Stock |
* Quantity Pricing Available