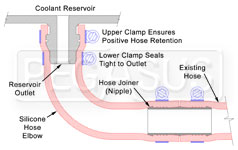 Silicone Hose Kits, Ford F150 5.0 / EcoBoost Reservoir
On most 2011-16 Ford F150 trucks, the coolant reservoir hose connection is a known source of leaks.
The quick-disconnect elbow below the reservoir is part of the pressurized cooling system, and the clip-retained hose often leaks where it meets the reservoir. Replacing the hose with another stock hose is expensive, and it often doesn't even solve the problem.
Our retrofit kit contains all of the parts you need to replace the stock hose with a more reliable clamped connection. Fits 2011-16 Ford F-150 with 5.0L V8, 3.7L V6, or 3.5L V6 EcoBoost engines; and 2015-17 Ford Expedition / Lincoln Navigator with the 3.5L V6 EcoBoost engine. (Does not fit the 4.6L, 5.4L, or 6.2L Modular V8 engines.) We offer kits with a Red, Blue, or Black hose to match your truck.



F150 Reservoir Silicone Hose Kit Instructions


Related Technical Documents
* Quantity Pricing Available