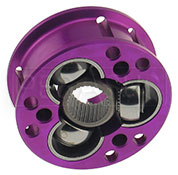 Tripod Joints, Tripod Joint Boots, & Accessories
Tripod Joints are standard equipment on late-model Van Diemen, Formula Mazda, Swift, and Ralt race cars. Our lightweight billet aluminum housings use replaceable steel liners for the ultimate balance of durability, light weight, and economy.

The Roller Greaser tool is a clever way to grease your tripod joint rollers -- just clip it on, inject grease with your grease gun, and unclip it!
Recent Top Seller for this product group

GKN Tripod Joint Grease, 300 Gram Tube

This genuine GKN Tripod Joint Grease is designed specifically for use in tripod joints. Using the wrong grease can lead to overheating and premature failure.
Image

Part No.

Description

Price

Status

1476-001

$89.99
In Stock

1476-002

$119.99
In Stock

1476-010

$209.99
In Stock

1476-011

$219.99
In Stock

1476-020

$21.99
In Stock

1476-021

$19.99
In Stock

1476-030

$53.99
In Stock

1476-050

$109.99
In Stock

1476-055

GKN Tripod Joint Grease, 300 Gram Tube

$74.99
In Stock

1476-056

$14.99
Not In Stock


notify me when available