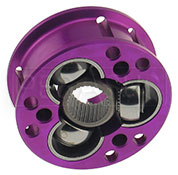 Tripod Joints, Tripod Joint Boots, & Accessories
Tripod Joints are standard equipment on late-model Van Diemen, Formula Mazda, Swift, and Ralt race cars. Our lightweight billet aluminum housings use replaceable steel liners for the ultimate balance of durability, light weight, and economy.

The Roller Greaser tool is a clever way to grease your tripod joint rollers -- just clip it on, inject grease with your grease gun, and unclip it!
Recent Top Seller for this product group

Tripod Joint Aero Boot, 94mm Diameter

This low-profile, aerodynamic boot fits all of the tripod joint housings that we sell. The rubber boot is bonded to a thick metal flange (94mm OD) that has 3 pairs of bolt holes.