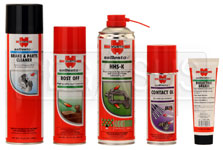 Wurth Chemical Products
Once available only to professional shops, Wurth Chemical Products are widely regarded as some of the best lubricants and cleaners available. These high-quality chemicals are so much more effective than the competition that you will use less to do each job, saving money over no-name products. Note: All Wurth products are for professional use only.

(HAO) = Hazardous, Air only. No hazard fee on ground shipments. Items with this flag are considered Hazardous by UPS only when shipped by air (3 Day Select, 2nd Day Air, or Next Day Air). A hazardous shipping charge will apply if shipped by air. The estimated shipping cost shown on the Shopping Cart page already includes this charge if applicable.


* Quantity Pricing Available