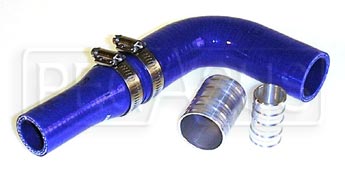 Silicone Coolant Hoses by Shape
This hose is built for endurance and performance in custom coolant plumbing applications. Silicone rubber with 3-ply textile reinforcement (4-ply on 51mm and larger sizes) makes this hose tough, reliable, and flexible to temperatures from -50°C to +200°C.
Choose bright Blue, Black, or Red. Each color has a smooth, shiny "wipe-down" finish. Use with our Aluminum Splicing Nipples (Part No. HI##) and Lined Hose Clamps (Part No. 3613-Size) to construct the exact shapes and lengths you need.

We also offer many Silicone Turbo Intake Hoses and Elbows in larger sizes up to 6" ID!
Recent Top Selling Products for this category

32mm (1 1/4 inch) Aluminum Hose Joiner

This 32mm (1 1/4") aluminum hose joiner is great for splicing silicone coolant hoses and are useful when connecting elbows to straight sections, two elbows, or a reducer to an elbow. Good retention.

Black Silicone Hose, Straight, 1 5/8inch ID, 1 Meter Length

This 1 meter (39 inch) straight hose has a 41mm nominal ID to fit over 1 5/8" OD tubing. Stealth Black silicone rubber is built with 3-ply reinforcement for custom cooling systems.

Red Silicone Hose, 2 1/4 x 2" Reducing Elbow

Our red silicone hose 90 degree 2 1/4" to 2" (57mm to 51mm) reducing elbows are perfect for coolant and intake plumbing. 4-ply reinforcement makes this hose tough and reliable from -50C to +200C.