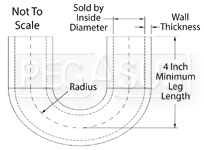 Red Silicone Coolant Hose 180 Degree Elbows
These elbows are designed for use in high-performance cooling systems. The bright red silicone rubber is molded into a 180 degree U-bend with the 4" long legs (measured from the centerline of the U-bend).
Leg spacing varies by hose ID:
1/2" to 1 3/8" ID (13mm - 35mm) have 3 3/4" (95mm) center-to-center spacing
1 1/2" to 2 1/2" ID (38mm - 63mm) have 4" (100mm) center-to-center spacing
2 3/4" and 3" ID (70mm - 76mm) have 5" (125mm) center-to-center spacing

Use our aluminum splicing nipples (Part No. HJxx) to join multiple hoses together to construct any shape you need.
Recent Top Seller for this product group

Red Silicone Hose, 1.00" I.D. 180 degree Elbow, 4" Legs

This 180 degree elbow hose is designed for automotive cooling systems. Red silicone rubber with 3-ply reinforcement. 25mm nominal ID fits over 1" OD tubing. 63mm (2.5") centerline radius.
* Quantity Pricing Available