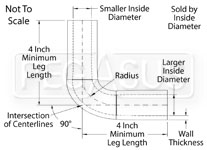 Red Silicone Coolant Hose 90 Degree Reducing Elbows
These 90 degree reducing elbows have approximately 4 inch long legs. Leg length is measured from the centerline of the opposite leg.

Use with our Aluminum Splicing Nipples (Part No. HJ##) and Lined Hose Clamps (Part No. 3613-Size) to construct the exact bends and lengths you need.

Note: This hose is NOT formulated for use in oil or fuel plumbing applications. It will survive occasional spills and oil leaks, but it will not stand up to continuous exposure to petroleum.
Recent Top Seller for this product group

Red Silicone Hose, 1 1/2 x 1 3/8" 90 deg. Reducing Elbow

Our 90 degree reducing elbows are designed to solve problems in your cooling system plumbing. Flame Red silicone rubber hose has 3-ply reinforcement. Connects a 1 1/2" OD tube to a 1 3/8" OD pipe.
Image

Part No.

Description

Price

Status

RE9019.16-RED

$12.49*
In Stock

RE9025.16-RED

$14.99*
In Stock

RE9025.16-RED

$14.99*
In Stock

RE9025.19-RED

$14.99*
In Stock

RE9032.25-RED

$16.79*
In Stock

RE9035.25-RED

$18.29*
In Stock

RE9035.30-RED

$18.29*
In Stock

RE9035.32-RED

$18.29*
In Stock

RE9038.25-RED

$18.79*
In Stock

RE9038.32-RED

Red Silicone Hose, 1 1/2 x 1 1/4" 90 deg. Reducing Elbow

$22.79*
In Stock

RE9038.35-RED

$22.79*
In Stock

RE9045.38-RED

$25.79*
In Stock

RE9051.38-RED

$26.79*
In Stock

RE9051.45-RED

$27.29*
In Stock

RE9057.51-RED

$27.49*
In Stock

RE9060.51-RED

$30.99*
In Stock

RE9063.45-RED

$31.49*
In Stock

RE9063.51-RED

$31.99*
In Stock

RE9063.57-RED

$31.99*
In Stock

RE9070.51-RED

$31.99*
In Stock

RE9070.63-RED

$32.49*
In Stock

RE9076.51-RED

$32.49*
In Stock

RE9076.57-RED

$32.99*
In Stock

RE9076.63-RED

$32.99*
In Stock

RE9076.70-RED

$33.49*
In Stock

3613-Size

Stainless Steel Worm-Drive Hose Clamp with Metal Lining

$2.29
to
$6.19*
In Stock
* Quantity Pricing Available