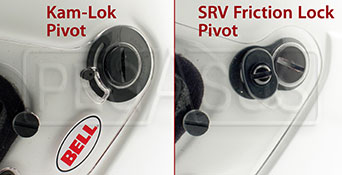 Bell Racing Safety Equipment
Bell Helmets have been trusted since 1954. Helmets come and go, but Bell racing helmets continue to inspire loyalty like no other brand. We offer Snell SA2010 and SAH2010 Bell auto racing helmets.

A note about shields: Bell introduced the SRV friction-lock system as a rolling change in 2005-06 on the SA2005 Dominator, Vortex, M3 / M3 Xtra, GTX, M4 Pro, and BR-1 auto racing helmets. Some of the early SA05 helmets have the original Bell Kam-Lok Shield detent system, but later SA05 versions of these models have the Bell SRV Friction Lock Shield system. The SRV shield has a smooth curved slot in front of the pivot and takes a different shield. We have a larger version of the above photo to help you identify which shield pivot mechanism is used on your Bell Helmet.
Related Technical Documents
Related Product Categories
Recent Top Selling Products for this category

Speedstack and XStack Laminated Tear-offs

The Speedstack Laminated Tear-off System has several very thin layers laminated together with visibility equal to 1 tearoff. No dust, fog, or water between layers and it installs as one piece.

Bell BR.1 Helmet, Snell SA2010 Approved

The Bell BR-1 racing helmet has a lightweight shell and an extra large eye-port for increased visibility. The ventilation system draws airflow through for maximum cooling. Snell SA2010 Approved.

Bell Sport Helmet, Snell SA2010 Approved

The popular Snell SA2010 rated Bell Sport model has quality and features of a much more expensive helmet. The lightweight composite shell is factory predrilled for HANS anchors.