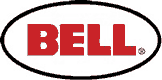 Bell Auto Racing Helmets
The quality and protection offered by Bell Helmets has been legendary for decades, from their first racing helmet in 1954, to the world's first full-face helmet in 1966, to their latest FIA-approved aerodynamic designs. Helmets come and go, but Bell continues to inspire loyalty like no other brand.

S10 = Snell SA2010 (Special Application) approved. The Snell Foundation SA2010 rating has been developed to provide the best safety protection for auto racing drivers who are restrained in their vehicles. An SA2010 rated helmet may not meet DOT specifications for street use, such as on motorcycles. As of January 1 2012, SCCA requires SA2005 or newer helmets.

New for the Snell SA2010 standard is the SAH2010 rating, also known as the FHR (Frontal Head Restraint) Addendum. An SAH2010 rated helmet design has also been tested to withstand loads imposed by a head and neck restraint device, and the helmet will have Snell-approved anchor mounting hardware (but not the anchors) already installed. Anchors are sold separately.

All SA2010/SAH2010 Bell helmets are pre-drilled for HANS® Device anchors (anchors sold separately). Full-face helmets include one clear face shield with a matching visor strip (white for white helmets and black for matte black helmets). Full-face helmets also feature revised chin padding designed specifically for easy radio microphone installation.
Related Technical Documents
Recent Top Seller for this product group

Bell Sport EV Helmet, Snell SA2010 Approved

The Snell SA2010 Bell Sport EV auto racing helmet has Bell's largest eyeport. The Extended Vision opening has a very low-cut chin bar for gauge visibility.
Image

Part No.

Description

Price

Status

BE008-S10-Size-Color

$769.95
Some
In Stock

BE009-S10-Size

$1,299.95
In Stock

BE001-S10-Size-Color

$769.95
In Stock

BE002-S10-Size-Color

$769.95
In Stock

2362-S10-Size-Color

$599.95
Some
In Stock

2290-S10-Size-Color

$599.95
Some
In Stock

BE005-S10-Size-Color

$599.95
Some
In Stock

2284-S10-Size-Color

$579.95
In Stock

2303-S10-Size-Color

$459.95
Some
In Stock

BE003-S10-Size-Color

$429.95
Some
In Stock

2392-S10-Size-Color

$399.95
Some
In Stock

2361-S10-Size-Color

$299.95
Some
In Stock

BE004-S10-Size-Color

$299.95
Some
In Stock

2308-S10-Size-Color

$249.95
Some
In Stock