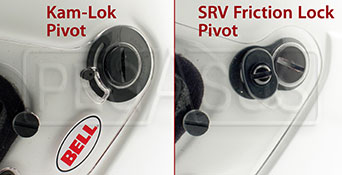 Face Shields & Visors for Bell Helmets, SA2000 and Earlier
The Kam-Lok ratcheting shield pivot (pictured above, left) was standard on all Bell full-face auto racing helmets from SA80 through SA2000. If your shield goes "click-click-click" when you raise it, your helmet has a Kam-Lok shield on it.

Bell Full-Face Helmet Shields
Bell USA Helmet Model
Snell Rating
Bell Reference No.
Part No.
Air Extractor
SA95
280
2316
AFX-1
SA95
281
2315
AFX-1
SA90
276A
2282*
Dominator
SA95/00
276
2282*
GTX
SA2000
276
2282*
Feuling SS, Feuling II
SA95/00
276
2282*
M2, M2 Pro, M2 Forced Air
SA95/00
280
2316
M2 (.125" thick)
SA90
253B
2272
M3
SA95/00
281
2315
M3
SA90
276A
2282*
M4, M4 Pro
SA95/00
280
2316
Racestar II/III
SA90
256A
2246
Racestar III, RS III
SA95/00
280B
2317
Racestar IV
SA90
276B
2238
RS-5
SA95/00
280
2316
Sport II & III
SA95/00
281
2315
Sport II
SA90
276A
2282*
Sport II Forced Air
SA95
280
2316
Sport II Forced Air (.080" thick)
SA90
253A
2248
Vortex
SA95/00
281
2315
Vortex
SA90
276A
2282*
XFM-1
SA95/00
281
2315
XFM-1
SA90
247A
2249

Note: Bell has stopped manufacturing all of these shields because the helmets they fit are all over 20 years old. Helmets should be retired after 5 years of use, or 15 years of storage.
* Add the Kam-Lok to SRV Conversion Kit to use the newer SRV version of this shield.
Recent Top Seller for this product group

Universal Helmet Shield Storage Sleeve

Protect your expensive helmet face shields from scratches in storage. Our soft fleece sleeves have a drawstring closure at one end to provide a clean and secure way to store your spare helmet visor.
Image

Part No.

Description

Price

Status

2238-Tint

$34.99
to
$38.49
In Stock

2246-Tint

$38.49
In Stock

2248-Tint

$45.00
In Stock

2249-Tint

$43.99
In Stock

2272-Tint

$45.00
In Stock

2315-Tint

$75.00
In Stock

2316-Tint

$44.99
to
$64.99
In Stock

2317-Tint

$38.99
In Stock

2258

$9.99
In Stock

2257

$14.99
In Stock

BE251

$4.99
In Stock

2283

$9.99
In Stock

2312-009

$9.99
In Stock

2136

$6.99
In Stock