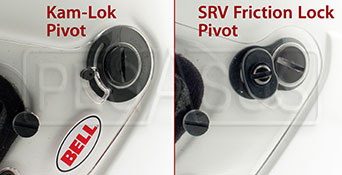 Face Shields & Visors for Bell Helmets, SA2000 and Earlier
Note: Bell has stopped manufacturing all of these shields because the helmets they fit are all over 10 years old. Helmets should be retired after 5 years of use, or 10 years of storage.
We still have a few of these older shields in stock (part numbers in bold). Shields that are no longer available are listed in the chart for historical reference only.

Bell Full-Face Helmet Shields
Bell USA Helmet Model
Snell Rating
Bell Reference No.
Part No.
Air Extractor
SA95
280
2316
AFX-1
SA95
281
2315
SA90
276A
2282
Dominator
SA95/00
276
2282
GTX
SA2000
276
2282
Feuling SS, Feuling II
SA95/00
276
2282
M2, M2 Pro, M2 Forced Air
SA95/00
280
2316
M2 (.125" thick)
SA90
253B
2272
M3
SA95/00
281
2315
SA90
276A
2282
M4, M4 Pro
SA95/00
280
2316
Racestar II/III
SA90
256A
2246
Racestar III, RS III
SA95/00
280B
2317
Racestar IV
SA90
276B
2238
RS-5
SA95/00
280
2316
Sport II & III
SA95/00
281
2315
Sport II
SA90
276A
2282
Sport II Forced Air
SA95
280
2316
Sport II Forced Air (.080" thick)
SA90
253A
2248
Vortex
SA95/00
281
2315
SA90
276A
2282
X-15
SA2000
282
2314
XFM-1
SA95/00
281
2315
Related Technical Documents