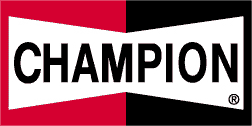 Champion Spark Plugs
Champion have been developing winning spark plugs since 1907. Champion plugs are OEM for such manufacturers as BMW, Briggs & Stratton, Ducati, Ferrari, Lamborghini, Maserati, Mazda, and Subaru. From Formula Ford to Formula One, Champion has powered more racers to victory than any other brand.
Related Product Categories
Recent Top Selling Products for this category

Champion Sparkplug, N6YC (FF1600)

Pegasus is your IN-STOCK source for Champion N6YC spark plugs. This is the standard plug for Formula Ford 1600 (Ford Kent engines with the original cast-iron head).

Champion Sparkplug, Surface Gap, Very Cold

This G Series Champion Spark Plug, number CH G54V has a 10mm thread, a .750" reach, 5/8" hex, and a surface gap tip with no exposed ground electrode helping expose the spark to the mixture.

Champion Sparkplug, RC9YC (FF1600 w/Aluminum Head)

This RC9YC Champion Sparkplug is for an FF1600 with an aluminum head, and has a 14 x 1.25mm thread, with a .750" reach, a 3/4" hex, a projected tip, and a hot heat range.