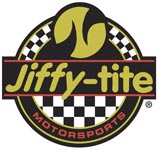 Jiffy-tite Quick-Connect Self-Sealing Fluid Fittings
Pegasus is proud to be a distributor for Jiffy-tite® Self-Sealing Quick-Connect Fluid Fittings! These fittings have been developed specifically for motorsport use. They are approved for use by SCCA, NHRA, and IHRA.

Jiffy-Tite Dimensions
Series
Plug
Diameter
Socket Collar
Diameter
Flow Rate
(valved)
Flow Rate
(non-valved)
2000
0.37"
0.75"
1.75 gpm
3.81 gpm
3000
0.53"
1.03"
4.34 gpm
n/a
5000
0.78"
1.37"
7.86 gpm
n/a

Any socket will mate to any plug within the same series, but it will not mate to a plug from any other series. For example, any 3000 Series socket will mate to any 3000 Series plug, but it will not mate to a 2000 or 5000 Series plug.
Related Product Categories