What is the Right Racing Hose for My Application?
So many choices!
When I started working for Pegasus in 2000, we offered three types of hose: Braided hose, not braided hose, and brake hose. With only those 3 to choose from, it was easy to pick the right one. Eighteen years later the sheer number of choices has become almost overwhelming. Where do you even start?
Eliminate the obvious
For the purposes of this article, let's assume you will be making fuel, oil, or brake hoses with threaded fittings (AN, NPT, BSP, SAE, or metric threads). That means we can start by ruling out silicone coolant hose (appropriate for coolant or intake air only), vacuum hose (for connecting to intake vacuum ports), and air duct hose (for low-pressure air only). We can also set aside Type 825 PTFE-Lined Polyester Braided Hose (Part No. 3425), which should only be used for specific applications.
Let's also take care of brake, clutch, and pressure gauge hoses right away since there is only one choice: PTFE Lined Stainless Steel Braided Brake Hose (Part No. 3260). The -3 size is most common for brakes. This size is equivalent to a 3/16" OD hard line, and matches nicely to 3/8-24 or 10mm brake fittings. The -4 size is equivalent to 1/4" tube and is usually used with 7/16-20 or 7/16-24 fittings. Recently, some formula cars have been built with -2 size brake hoses because the smaller OD is easier to hide inside an aero-shaped suspension arm.
What does that leave?
Even eliminating all those choices still leaves us with 6 hose types to sort out.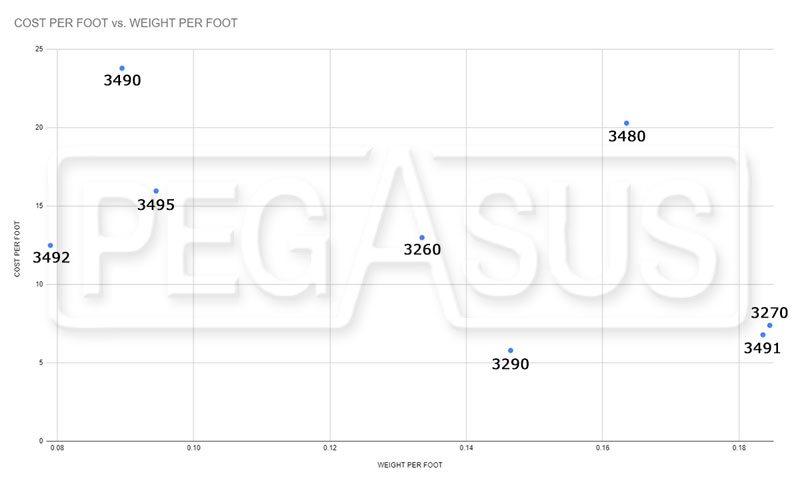 Whatcha building?
Fuel Hose: You will never go wrong with our Type 811 PTFE Lined Braided Stainless Steel Racing Hose (Part No. 3480). The PTFE liner is absolutely resistant to all fuel types, and will not allow any vapor penetration. Properly installed, this hose will not get brittle like rubber hose (even with alcohol fuels), and your car will not smell like fuel -- period! The PTFE material is black rather than milky white because it is impregnated with carbon to dissipate static electricity. The stainless steel braid is also SCCA-approved for use as a fuel hose anywhere on or in the car. The biggest downside is the cost.
Oil Hose: Almost anything goes here. Unfortunately, that means you have to do a bit more work in terms of weighing the pros and cons of each. The easy choices are Nitrile Lined Stainless Steel Racing Hose (Part No. 3270) where you need a metal outer braid and Textile Reinforced Rubber Hose (Part No. 3290) where you don't. If your budget allows, a lighter (but more expensive) choice would be Nitrile Lined Aramid Braided Aeroquip StartLite Hose (Part No. 3492).
Break it down
Each hose type has important advantages and disadvantages which need to be considered when building fuel or oil hoses. Rather than compare all the different hose types, let's look at just the liner material and the outer braid material. As you can see from the table above, all of our fuel and oil hoses use one of 2 liner materials and one of 3 outer braid materials.
Hose Liner Comparison
Material
Synthetic Nitrile Rubber
Corrugated Anti-Static PTFE
Hose Part Numbers
3270, 3290, 3491, 3492
3480, 3490
Advantages
Inexpensive
Compatible with all fluids
Resists fuel vapor penetration
Resists static build-up
Disadvantages
Incompatible with corrosive fuels
Expensive
Compatible Fluids
Oil, Air, Coolant, Fuel (petroleum only)
Fuel (all), Oil, Coolant
Incompatible Fluids
Alcohol, alcohol blends, oxygenated or oxidized gasoline*
None
* Fuel injection systems that return excess fuel to the tank tend to oxidize fuel, making it incompatible with Nitrile hoses.
Outer Braid Comparison
Material
Stainless Steel
Aramid
None (Textile inner reinforcement)
Hose Part Numbers
3270, 3480
3490, 3492
3290, 3491
Advantages
Recognized by most racing organizations
Light weight
Inexpensive
Disadvantages
Heaviest
Most expensive
Low abrasion resistance
Play by the rules
Before you make a final decision, you must check your rule book to be sure you can actually use the hose you want. SCCA, for example, mandates "metal-braided hose" for oil, water, and fuel hoses in the driver's compartment. NHRA also requires metal-braided fuel hose, unless the hose is specifically listed in their "Accepted Products" booklet. (Note that all of the hose types discussed here are NHRA-legal.)
Rules Comparison (2018)
Hose Part Number
3270
3492
3290
3491
3480
3490
SCCA (inside cockpit)
Legal
No
No
No
Legal
No
SCCA (outside cockpit only)
Legal
Legal
Legal
Legal
Legal
Legal
NHRA
Legal
Legal
Legal
Legal
Legal
Legal
** Please check your organization's current rulebook! Your tech inspector may not agree with this table!
What about that Type 825 hose?
The Type 825 hose has a fuel-resistant, anti-static PTFE liner, which makes it suitable for use with fuel. The polyester outer braid makes it very attractive from a price perspective. But that poly braid also rules out its use on nealy all racing vehicles. It does not provide the same level of abrasion protection as aramid or stainless, and its temperature rating is too low for a racing engine bay. So where can you use it?
Type 825 hose is an excellent choice for fuel feed hoses in most street applications. It also makes a great pick-up hose inside the fuel cell. It will withstand exposure to any type of fuel, it resists fuel vapor penetration, and its operating pressure rating far exceeds the pressures in most EFI systems.