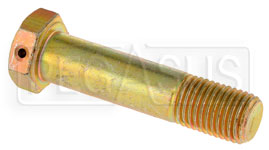 AN7H Bolts -- Drilled Head
AN7H bolts have a 7/16-20 thread with a 7/16" shank diameter. All AN7H bolts have a 0.656 inch thread length. This length is designed to accommodate a full-height nut plus one AN960-716 washer. The head is predrilled for use with safety wire.

A or no A? AN bolts were originally designed to be used with a castle nut and cotter pin, so the base part number indicates a drilled shank. The addition of an "A" at the end (for example, AN7H-16A) indicates a drilled head and an undrilled shank for use with a self-locking nut.

AN bolt nomenclature can be confusing. Please take a look at our page on Identifying AN Bolt Sizes.
* Quantity Pricing Available