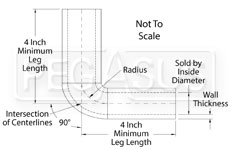 Blue Silicone Turbo Hose 90 Degree Elbows
Our Silicone Turbo Hoses are the same construction as our Silicone Coolant Hoses, but in sizes appropriate for turbo feed and intake applications. Working pressure varies by size (the largest size, 6 inch diameter, has the lowest working pressure at 14.5 psi / 1 bar).
These 90 degree elbows have approximately 4" long legs. Leg length is measured from the centerline of the opposite leg.
Recent Top Seller for this product group

Blue Silicone Hose, 2 1/2" I.D. 90 degree Elbow, 4" Legs

This hose is built for performance in custom coolant plumbing applications. Silicone rubber with 4-ply reinforcement makes this hose tough, reliable, and flexible to extreme temperatures.
* Quantity Pricing Available