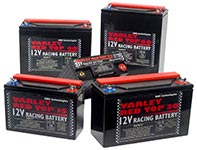 Varley Racing Batteries
Varley Batteries already had over 20 years of aircraft experience before they were adopted for racing use in the 1970s. Varley (and parent company since 1985, DMS Technologies) have conducted extensive R&D and continual improvement to tailor the Varley Red Top line for motorsports.
These batteries are pricey but they have the highest energy density of just about any battery available. Many race cars have battery compartments specially designed to accept these batteries and nothing else fits properly. They can be used in any position and resist leakage even if the outer casing becomes damaged. These batteries are considered non-hazardous freight and can be shipped by air or ground.

Note: Some other batteries on the market may have similiar dimensions, but beware! They may not be suitable for use in a racing environment. DMS/Varley Red Top batteries are specifically engineered for demanding auto racing applications.
Related Technical Documents
Recent Top Seller for this product group

(B) Varley Red Top 30 Battery, 27AH

Varley Red Top Batteries are specifically engineered for racing. The Red Top 30 is perfect for Formula Ford 2000, FC, F3, FA, S2000, Prototypes, GT Cars, and Ferrari Challenge.