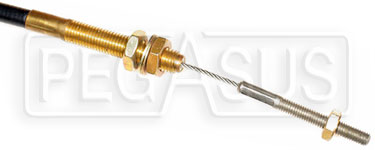 Throttle Cables
In addition to stocking several lengths of Push-Pull cables, we also make Custom Throttle Cables (pull only) to order.



Custom Throttle Cable Information Sheet

Note: Please allow 24 hours for custom throttle cable orders.
Recent Top Seller for this product group

Barrel End Clamp for Throttle Cables

This barrel clamp can connect two cables or make a loop in the end of a cable. Some mechanical fire systems use a similar clamp to secure the cable to the handle.