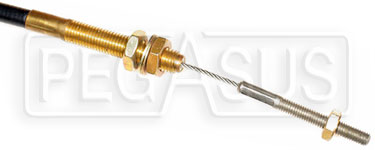 Throttle Cables
In addition to stocking several lengths of Push-Pull cables, we also make Custom Throttle Cables (pull only) to order.



Custom Throttle Cable Information Sheet

Note: Please allow 24 hours for custom throttle cable orders.
Recent Top Seller for this product group

Floating Saddle Mount

This Floating Saddle Mount lets you put a tab anywhere you want on a chassis tube without welding. Excellent for mounting control cables, brake lines, or bodywork supports.